And just like that……summer has left us. Now it's time to turn our attention away from our summer fun and instead – towards preparing our homes for winter.
A few hours of work now could prevent costly repairs later. Here are some ideas that aren't too time consuming or expensive to complete.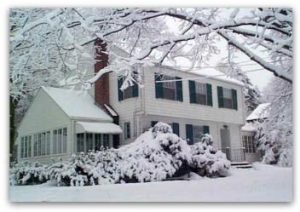 Gutters & Downspouts
Clean-out gutters and downspouts mid-fall.
Install leaf guard systems to help keep them clear after cleaning.
 Doors & Windows
Check doors and windows for gaps where warm air will escape.
Apply weather stripping around draft areas.
 Heating System
Replace furnace filters.
Test your system before the cold weather hits.
Hire an HVAC company to service/tune-up your system.
Roof & Chimney
Check for loose or missing shingles.
Make sure chimneys and stovepipes are clean.
What topics would you like featured?
Email June with your suggestions.   june@gustafsoninsurance.com